FT312D
From BitWizard WIKI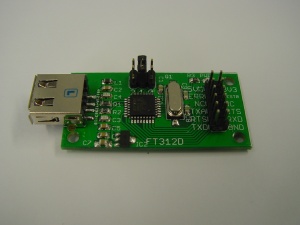 This is the documentation page for the FT312D breakout board. (FT 312 D to help people like me find it with the search function).
The FT312D breakout board can you buy in the BitWizard shop.
Overview
The FT312D breakout board has an USB connector, one 12-pin IO connector. The brains of the PCB, of course, is an FT312D chip.
External resources
Using the board
The board can not be powered from your mobile phone, you will need to supply 5V on the 5V header pin. This will also charge your phone.
This board is compatible with AOA (Android Open Accessory), and for example the PodMode app.
Pinout
The 12-pin connector is connected as follows:
| | |
| --- | --- |
| 5V | 3V3 |
| USB ERROR#(jumpered) | TEST0 |
| NC | NC |
| TX_ACTIVE | CTS# |
| RTS# | RXD |
| TXD | GND |
LEDS
The only LED is a power LED
Jumper settings
The left two jumpers should be placed, the third (right) jumper should NOT be placed.
Future hardware enhancements
jumper to be able to disconnect the 5V header pin from the 5V USB pin
Changelog
1.1